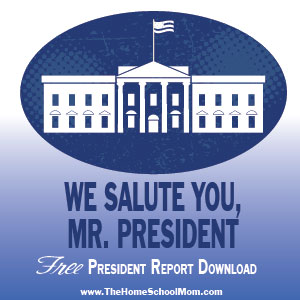 NOTEBOOKING UNITS FOR PRESIDENTS' DAY
Known for their quality notebooking units (moms have reported that these free units are better than units available for sale on other sites), TheHomeSchoolMom has put together 2 free notebooking units for you about the President of the United States in time for Presidents' Day (which is celebrated next Monday, Feb 19th).
We Salute You, Mr. President is perfect for a president report on the president(s) of your choice, while All About Presidents is a detailed unit that covers the history of the office of president, presidential perks, presidential firsts, nicknames and Secret Service code names, campaign slogans, important events in history (including wars and conflicts), fun facts, and political parties.
To go to the download page for these resources, click here!