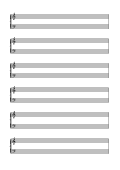 Blank Sheet Music Templates (PDF)
Staff paper can be expensive. MusicaNeo has provided a large assortment of blank music sheets to help save costs. You will find both educational music sheets with large staves and different templates, which are optimized to fit a large amount of work on a single page. Free blank sheet music is provided in PDF file format (A4 and U.S. letter size) and can be printed on any standard printer. You can either click and print immediately or download the file and print later. BIG money saver for any students studying music!
"I'm a homeschooling mom who supervises the study of both piano and violin for my child. These free sheets have come in very handy when scaling hymns or other advanced pieces down to my son's skill level. They would be excellent for teaching or practicing composition as well. Formats are available/appropriate for almost any instrument, whether beginner or advanced." – Submitted by Jean Clark
Click here to go to the download page!