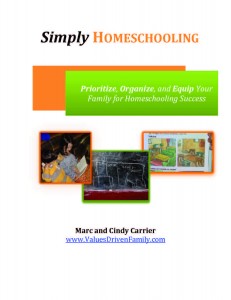 SIMPLY HOMESCHOOLING by Marc & Cindy Carrier (PDF ebook)
"Simply Homeschooling", published by Values Driven Family is a series of short articles written by the homeschooling parents of eight children. Perfect whether you're just beginning the homeschooling journey, or simply need encouragement and ideas as you begin a new school year. Affirming your priorities, time management/scheduling, curriculum selection, self-directed learning and the all-important "attitudes" are just a few of the topics covered in this essential ebook.
Sorry, this resource link has now expired!