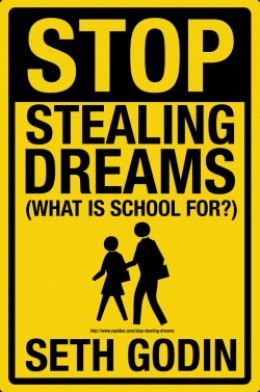 Seth Godin's fascinating ebook examines what's wrong with our modern educational system and why it is messing up so many young people. Although he doesn't even mention it by name, a better argument for homeschooling would be hard to find. Very enlightening, thought provoking reading you will really enjoy. Downloadable in just about any format you can think of. (Also check out the author's TEDx video on his page.)
The economy has changed, probably forever.
School hasn't.
School was invented to create a constant stream of compliant factory workers to the growing businesses of the 1900s. It continues to do an excellent job at achieving this goal, but it's not a goal we need to achieve any longer.
In this 30,000 word manifesto, I imagine a different set of goals and start (I hope) a discussion about how we can reach them. One thing is certain: if we keep doing what we've been doing, we're going to keep getting what we've been getting.
CLICK HERE to go to the download page